**Traduction français à venir sous peu. Merci pour votre compréhension.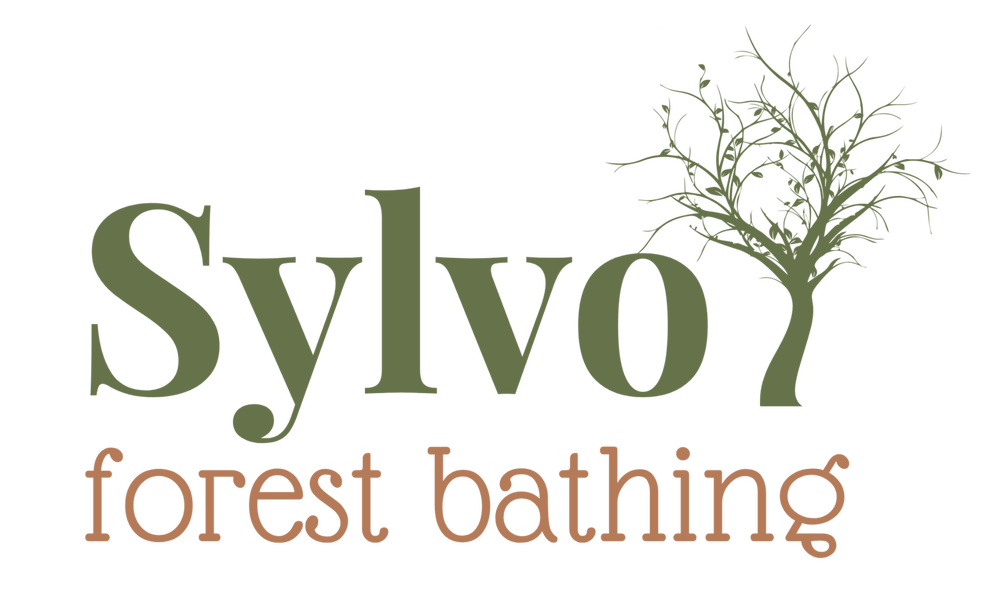 Take time to
find yourself in nature
Step out of the grind and into your nature with our forest-based salve for the soul. Sylvo offers both virtual and in-person guided forest therapy walks hosted by an ANFT-certified forest therapy guide.Nature connection practices have been scientifically proven to benefit the mind, body and spirit.A growing body of research suggests that time spent in nature has positive effects on (among other things): attention, cognitive performance, immune response, cardiovascular health, sleep, emotions, mood, and behaviour.Head into the forest to find your way out of the woods.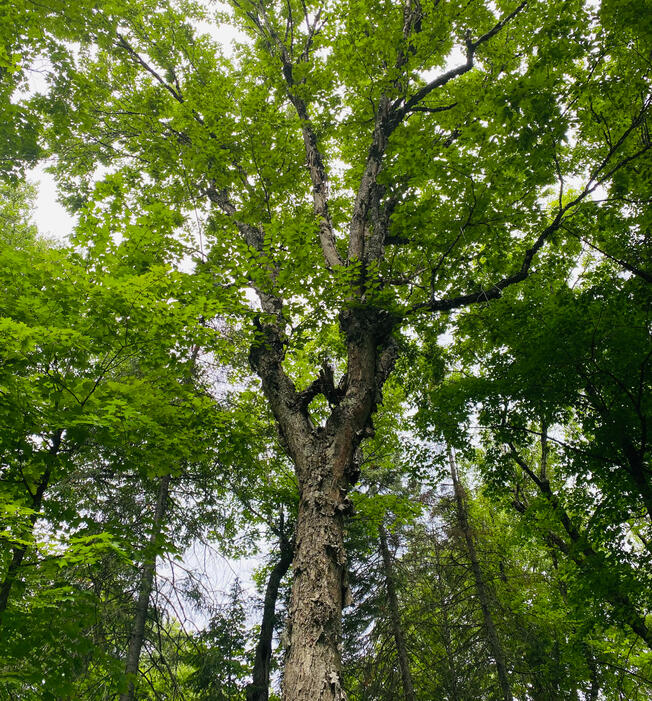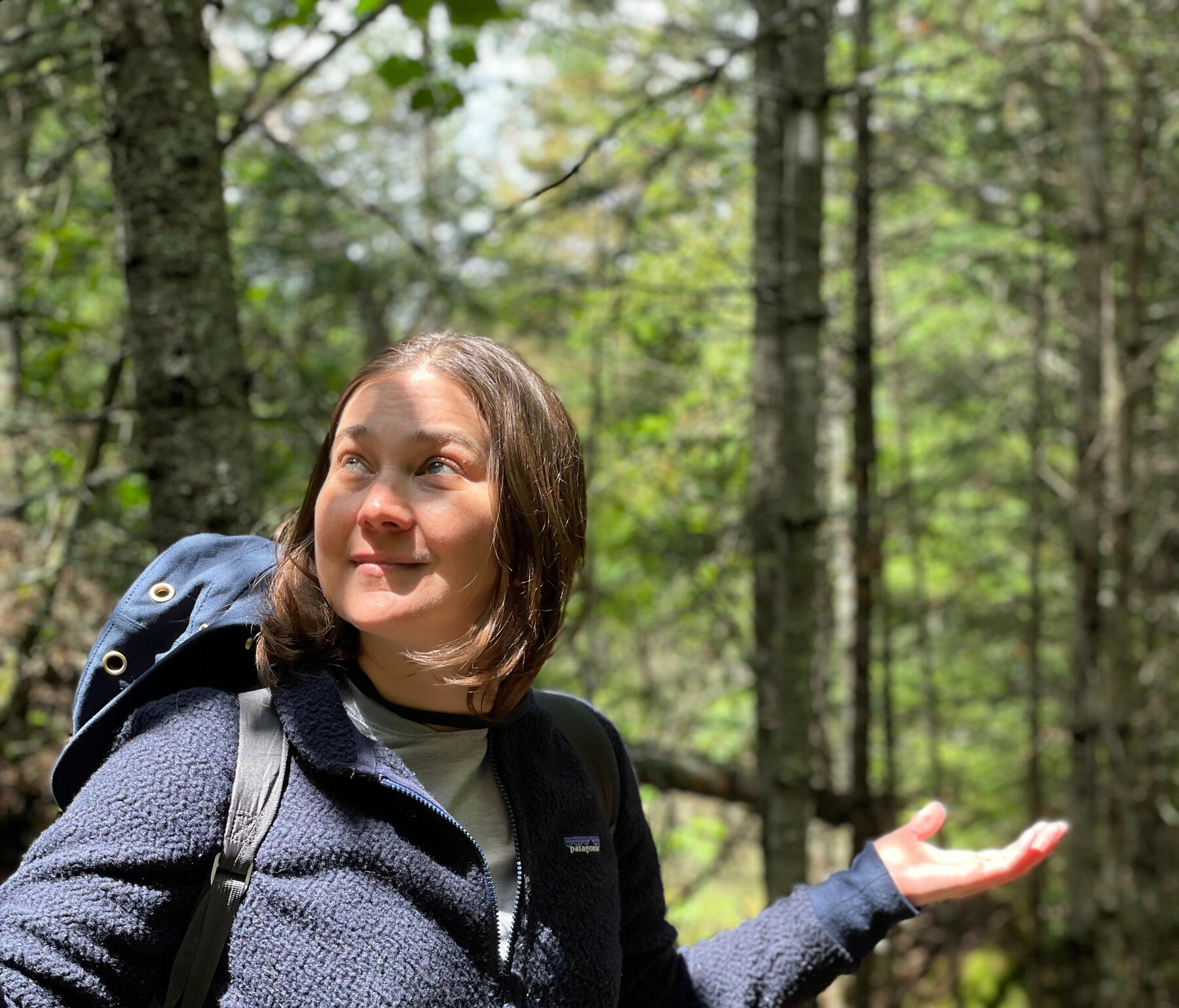 About
Hey there. I'm Emma. I acknowledge and reside gratefully upon traditional Kanien'kehà:ka territory (Tiohtiá:ke/Montreal).
I am a certified nature and forest therapy guide. I am also a writer, editor, book publisher and certified coach. I help people review and revise their own stories, sometimes on the page and sometimes in the depths of nature.
I've always found the forest to be a place where all the disparate parts of myself can come together: my love of story, poetry and myth, my love of movement, embodiment, breath, my focus on leadership, mentorship, and outdoor education, my fascination with wild medicinal plants and mycelium. Energy. Birdsong. It all has a place in the forest.
The forest is a constant reminder that all things are interconnected.
As a nature and forest therapy guide, l work in partnership with the forest to offer respite — an alternative to the stress and trauma that pervade modern life — and advocate for the preservation and appreciation of wild spaces in the process.
I help people develop and deepen nature connection, repair relationships, and get grounded, rooted and ready for whatever lies ahead.
How I got into forest therapy
I grew up spending a lot of time outside. As a teenager, I was very clear that I wanted to build a life in nature. As I got older, this began to feel unattainable. Work and studies gradually took up more and more of my time… and then came (single) parenthood. There was no option to take time for myself. All year I would look forward to some "time away," and if the stars aligned I might get five days during the summer to get out and immerse myself in nature. It felt awesome. I'd vow to hold this feeling, this awareness of what a balanced life might look like, with me as I headed back to the grind. Then the busy-ness of life would take over again and I'd find myself stressed out, short of breath, and depressed.
I came to understand nothing was going to magically change without me taking action to do something about it. While my career as an executive producer in news media and as a coach continued to evolve, I felt the forest calling me. I explored ways I might be able to make being in the forest a more regular part of my reality. And that's when I discovered nature and forest therapy, and I began the process of becoming a guide.
In the past year and a half, we've all been through a lot, whether on the front lines of the health crisis or isolated at home. We've seen the cracks in our society exposed, we've experienced grief, and we've had to learn new ways to move, to unwind, and to take care of ourselves.
It's a perfect moment to turn to nature. We humans evolved in nature. Our senses are finely tuned to nature. It's where we belong. Science shows us that time spent in nature activates the parasympathetic nervous system, helps regulate cortisol levels, and decreases stress.
Time in nature can also help us remember our own nature, and how interconnected everything is. In the forest, when a tree is under attack by fungi or other organisms, the trees around it emit phytoncides, a substance that bathes the surrounding trees in with protective, immune-boosting chemicals. Underground, the mycelium network constantly monitors the health of the fungi, trees and plants it is connected to, moving resources between them. Being in nature helps us remember that every crooked branch, every fluttering leaf, every bird and insect and grooved tree trunk and disintegrating stump matters to the whole. Just like each one of us belongs here.
I want to share this practice with others because I've found it completely transformative, and because I truly believe that the forest has our backs. In my experience, being more connected to nature on a regular basis helps. It helps us remember our wholeness, our aliveness, and our connection to all that is.
FAQ
I already spend plenty of time in nature. Why do I need a guide?If it's working for you, carry on! Just as it's possible to meditate or do yoga on your own, self-directed forest experiences can be wonderful.However, if you're not sure where to start, if you have a hard time making time in nature a priority, or if slowing down is simply not in your nature, you may benefit from a guided experience. With a guide, you don't need to worry about what happens next, or if you're doing it right. In a group setting, everyone has a chance to share, adding more layers of connection to the experience.A guide helps you slow down and experience the forest in ways that may be new to you.What is guided forest therapy?Guided forest therapy is an evidence-based wellness practice with roots in shinrin-yoku, or forest bathing, a practice that emerged in Japan in the 1980s as a result of a public health crisis. There was a massive spike in stress-related illnesses in the country, including cancer and autoimmune disease. This appeared to be linked to the fact that, as the tech-based economy took hold, people were spending more time indoors, working long hours.In an effort to combat this epidemic, the Japanese government launched a number of research projects. One asked the question: What happens when humans are exposed to forest environments? Researchers discovered that trees keep themselves healthy by showering themselves in chemicals called phytoncides. Trees diffuse phytoncides into the air when they are attacked by a fungus or other organism, and the phytoncides seek out and kill the attacking fungus. When humans inhale phytoncides or absorb them through our skin, our immune system similarly gets a boost.Further research confirmed the preventive health benefits of spending time in the forest, and shinrin-yoku took hold as a legitimate healthcare practice in Japan, one that could be prescribed by medical doctors.In North America, there is increasing momentum to support "nature prescriptions," and several provinces and states are now piloting programs to make this possible.Sylvo offers a relational approach to guided forest therapy developed for a North American audience by the Association of Nature and Forest Therapy. Our walks are designed as a three-hour experience through which people can experience the health benefits associated with forest bathing while also working on their connections with themselves, each other, and the natural world.What can I expect?In-person walks last for approximately 2.5-3 hours.Throughout the experience, your guide will offer you a series of invitations. Following each invitation, you will be invited to share, and whatever you feel like sharing (or not sharing) is perfectly fine. You may want to bring a journal, but you don't have to. There is no right or wrong way to do any of this.Virtual walks generally run from 1.5 to 2 hours long. We will do the walk over Zoom (mainly just audio, though we sometimes turn video on at the very end), so as long as you have a fully charged mobile device and wireless internet access, you can participate from wherever you like. Some people will find a spot in the forest, others will be in a park or in their own backyards. You can take part on a balcony or near a houseplant or two. Wherever you are is perfectly welcome.The walk will follow a similar structure to what we would do in person. Since the guide is not at your side throughout the walk, it is important that you choose a location that feels safe and comfortable and where you are unlikely to be interrupted.What should I wear?We will not be moving very quickly at all — this is not a hike. Please dress for the elements — it's preferable to have to remove a layer or two than it is to feel distracted and uncomfortable due to cold or wet weather. We may not have easy access to washrooms while we are out, so please plan accordingly.What is your cancellation policy?We offer a full refund or a credit provided we have at least 48 hours' notice ahead of the event.If we need to cancel on the day of the event due to weather conditions, you will receive a credit for a future walk.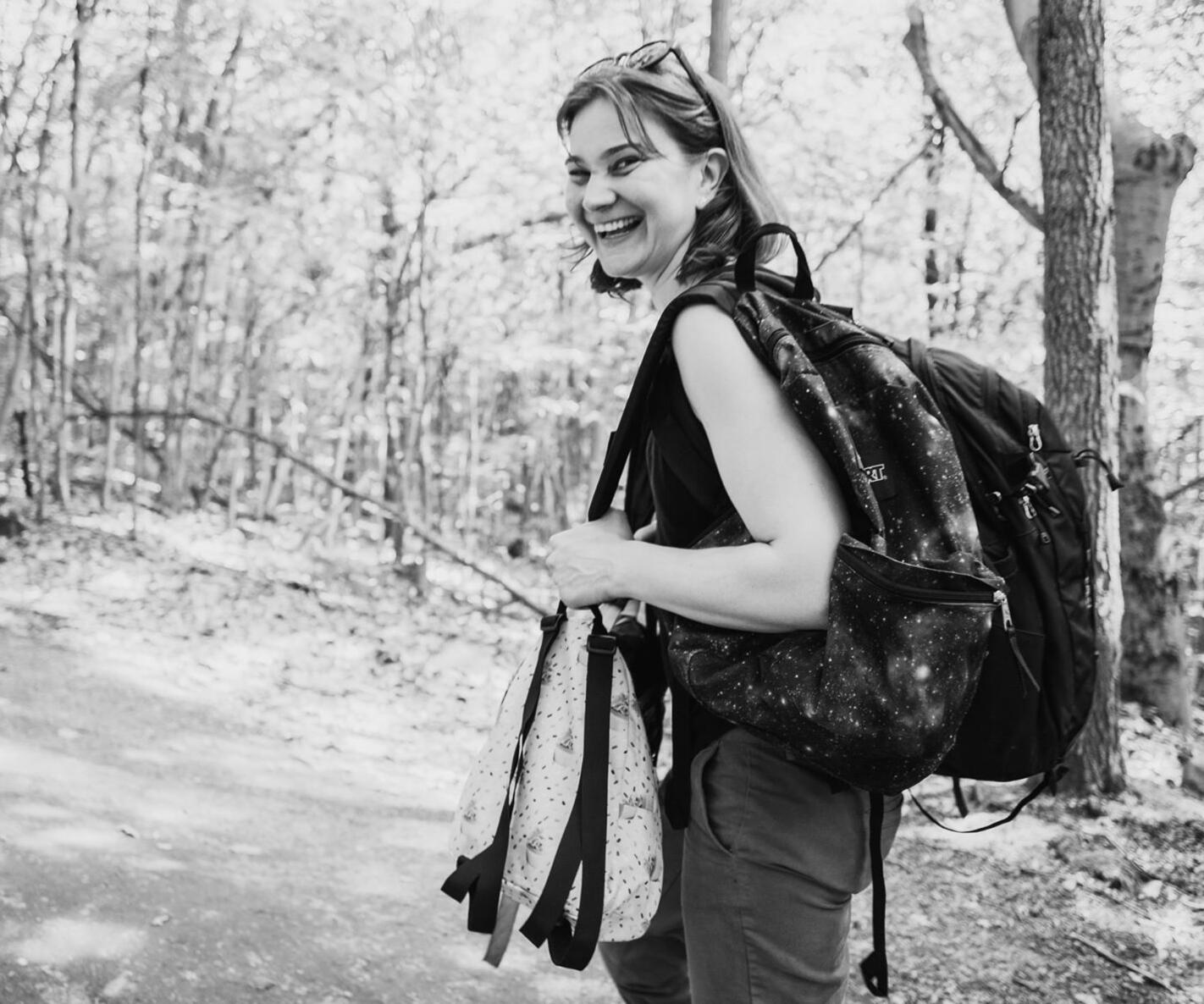 Upcoming Walks
Sign up for our newsletter to be informed when future walks are scheduled.Coaching inquiries
Interested in 1:1 coaching? Email emma@sylvo.ca for more info.Private/custom walks
Book a private guided forest therapy walk for your group. Contact us for more details.
Newsletter
Sign up for our occasional updates about events, resources, research, tools for resilience and more.